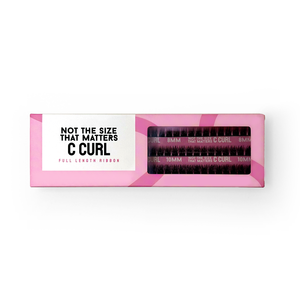 Not The Size That Matters C Curl Ribbon

C-curl lashes, You asked for it! Introducing Not The Size That Matters C curl, the Big D Curls more natural beautiful sister.  This lighter look is in 8-12mm, a black base but still the right amount of fluff to pop!
Vegan, recyclable, and ready to bring the no make-up, make-up look. 1x8mm 1x10mm 1x12mm black ribbon.
Glue not included.
What lashes do you need?

Here's the low down - the further down the alphabet you go, the curlier (and more dramatic) the lash.   
B – This is a very soft curl that can subtly add fullness to naturally straight lashes.  
C – A slight curl, to add a little lift and give a wide-awake-and-ready-for-anything look (even when you haven't had your coffee)  
D – A major curl, made to uplift with maximum impact and drama.  
DD – If you thought D lashes brought enough drama, DD is here - our curliest lashes yet. Extra drama, extra definition and all eyes on you.  
How to use:
Trim the lash clusters to size (we recommend 2 at a time) and apply lash glue to your lashes. Use tweezers to apply the clusters to the underside of your top lashes, about 2mm from the lash line. Squeeze the cluster and your natural lashes together and give a gentle shimmy to secure (but don't shimmy too hard – you're not on the dancefloor – yet). 
For videos on how to apply, check out our Insta, TikTok or website.  
 Made from synthetic Korean fibre. 
Our packaging is recyclable.