DO IT YOURSELF LASHES
DIY lashes are a 2023 staple! Russian lashes at a fraction of the cost, they last 5-7 days, are waterproof and can be styled however you like from the comfort of your own home!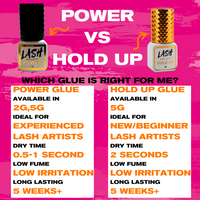 Which Glue is Right for Me?
We pride ourselves at Lash Society for bringing QUALITY products, and our glues are up there with the best in the industry! HOLD UP is where you start as a new lash artist, this glue is still speedy and the retention is INSANEEE! POWER is perfect for experienced artists, we would not recommend this glue until you feel completely comfortable as a Lash Artist. We also offer POWER in sample size so you can try to see if you are ready before purchasing the full sized item!
Take a look at our adhesive range here
Bottom Lashes
An easier way to increase profit is to up-sell to your clients as opposed to attracting new ones. Offering extra services to pre-existing clients can be a great way to increase your income with less effort! Bottom lashes are applied to the bottom lash line and can be applied during the same lash appointment! Offer something new for 2022!
Check These Out Here