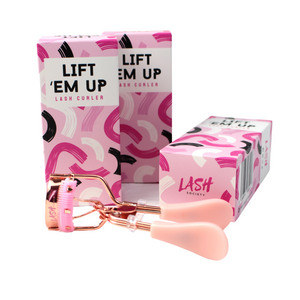 Lift 'Em Up Lash Curler  
Masterpieces start with the perfect canvas. Get your natural lashes ready by prepping them with the Lift 'Em Up Lash Curler - lifting them as high as you'd lift up your new bestie in the club bathroom.  
We've tried and tested so many eyelash curlers, and we've found the best for both professional and at home use (and then made them pastel pink and rose gold. Pretty AF). 
Why curl your lashes?

Our synthetic lashes are curled and ready to go – so curling your own natural lashes first makes sure the two blend together seamlessly.  
Even if you're not applying lashes, using a curler is a must before applying mascara to add length and definition. It also creates an optical illusion, making your eyes look bigger and more awake. The dream.  

How to use:
Starting with clean and cleansed lashes, have a mirror in front of you and tilt your head back. Hold the Lift 'Em Up Lash Curler up to your eye, with the handle pointing downwards. Clamp the curler onto the base of the lashes next to the lash line (don't touch the eyelid itself!) and give them a gentle shimmy.  
For videos on how to use them, check out our Insta, TikTok or website 
Do not use on lashes coated in mascara or glue.

Made from stainless steel.  
Our packaging is recyclable.