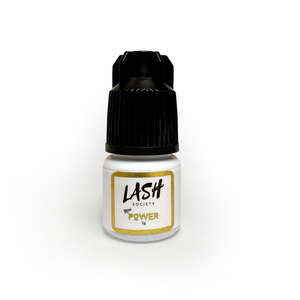 Power Glue 0.5 - 1 second dry time lash adhesive - 2g
The ULTIMATE quick dry glue POWER with a dry time of just 0.5-1 second! Perfect for sampling the product and for lash techs with less clients in these tough times!
Low Fume
Low Irritation
Fast Dry Time 0.5-1 second
Ideal for Experienced Lash Artists
Long lasting 5 weeks +
Suitable for Russian and Classic Application
Ultra Carbon Black
30-70% Humidity
18-27 Degrees Temperature
Having sampled 12 quick drying adhesives from 5 different manufacturing companies, we believe we have found the perfect glue for experienced lash technicians.  Simply shake well before use, add a drop to your glue plate and replace the glue drop every 10-20 minutes ensuring the glue drops don't touch for best results.
In the sealed adhesive bag, we have also included some wipes, pins and a new nozzle head, should your glue become blocked.  For best results, avoid getting the nozzle blocked, store your glue upright in its sealed package, wipe the lid after any use, and if required change the nozzle.
This product is for professional use only
2g bottle 
Patch test required 48 hours before application
Open within 3 months of purchase
Once opened use within 4-6 weeks for optimum use
Ideal temperature between 18-27 degrees celsius
Ingredients
Ethy cyanoacrylate PMMA carbon black
This product complies with the General Product Safety Regulations 2005.

Material Safety Data Sheet is available upon request, use the Contact page to ask for this and we can email you a copy should you require it.