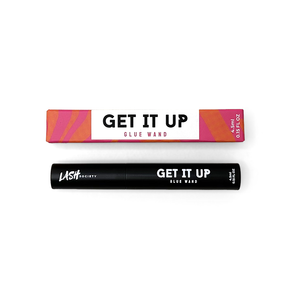 Get It Up Glue Wand (4.5ml) 
Easy to get up and lasts for ages (5-7 days to be exact) - applying your lashes just got an upgrade. Vegan, latex-free and waterproof, what else could you ask for? 
This is our first glue for non-professional use, so you can give yourself incredible lashes at home. Our lash wand has its own brush applicator and applies just like mascara.  
Why use a glue wand instead of a brush tip? 

The Get It Up Glue Wand is simple, easy and mess-free (unlike our dating life). Don't worry about fiddling around to get that perfect line of glue at the lash line, especially when your nails are fly AF, when you can simply swipe and apply.   
How to use:
Apply the Get It Up Glue Wand like mascara before applying your lashes, really getting close to the lash line. For extra coverage, gently and slowly zigzag the wand side-to-side through your lashes when applying.  
For videos on how to apply, check out our Insta, TikTok or website 
Our Get It Up Glue Wand also comes in our Do It Your Fluffin Self Lash Kit. Along with The Big D Curl Half-length ribbons, rose gold stainless steel tweezers, rose gold stainless steel scissors and a step-by-step instructions, the kit is filled with everything you need to give yourself incredible lashes at home.  
Ingredients: Acrylates Copolymer, Aqua, CI77266 Carbon Black 
CAUTION:  Keep out of reach of children. May cause serious eye irritation. Discontinue use and consult your doctor if irritation occurs. IN CASE OF CONTACT WITH EYES: Rinse immediately with water. If eye irritation persists, seek medical attention.   
This product complies with the General Product Safety Regulations 2005.

Material Safety Data Sheet is available upon request, use the Contact page to ask for this and we can email you a copy should you require it. 
Our packaging is recyclable.